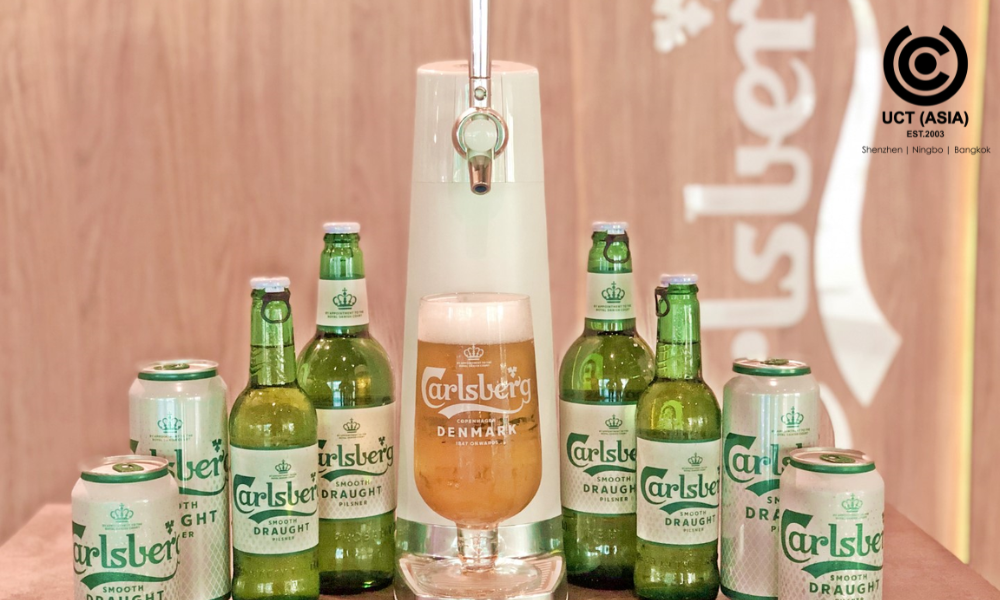 Ever wondered what constitutes the perfect promotional gift for your business? Well, the ideal promotional gift depends on your target audience and the goals you intend to achieve with your marketing campaign. When it comes to offering promotional gifts, understanding the preferences of your target audience is essential for ensuring a successful advertising campaign.
So let's narrow it down a little bit, shall we? Let's say you run a beer business or brand. It's now clear who your target audience is – beer lovers, right? So, have you ever wondered what constitutes the perfect gift for beer lovers? Well, brands can create the ideal promotional gift for beer lovers only through masterful innovation, functionality, and uniqueness.
In this post, we'll explore Fizzics' dispenser, the ideal promotional product for beer lovers. So without further ado, let's get down to brass tacks.
What We Know About Carlsberg Beer Draught and Fizzics Dispenser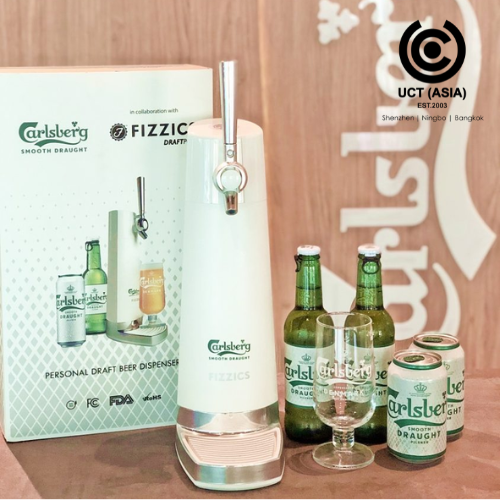 Carlsberg, the world-renowned brewing company, brought their A-game to the board by offering consumers a chance to win a limited-edition draught beer dispenser by Fizzics. The Fizzics beer dispenser, which comes in the shape of a draught beer tap, is designed to convert any bottle or can of beer into the perfect pour using the innovative Micro-Foam Technology.
Do you know what's more interesting? The dispenser can be powered by batteries or USB, making it more convenient for outdoor events and allowing consumers to be their own bartenders wherever and whenever.
Marketing Benefits of This Promotional Product?
As challenging as beer or liquor marketing might seem, using the perfect promotional products has made it much easier for brands to cut through with a broader reach. So in this segment, we'll look at the benefits of using the beer draught dispenser as your preferred promotional gift.
1. Builds Brand Recognition
Essentially, promotional beer dispensers ensure your business enjoys free advertisement every time your customers use them. More importantly, they help you build a brand, especially with the products bearing your logo, message, and colour, which are crucial for new brands trying to gain recognition in an industry as highly competitive as the liquor industry.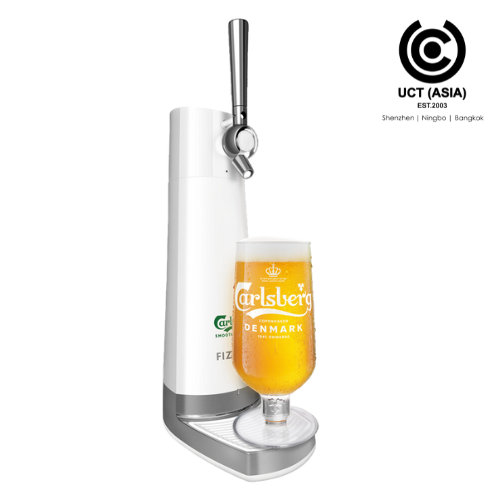 2. Serves As Loyalty Incentives
Promotional beer dispensers are promotional items ideal for exclusive prizes, giveaways, or loyalty incentives. These rewards not only attract new customers but also helps to retain the old ones, as people are often enticed by the idea of receiving a unique and valuable item.
In this well-executed campaign by Carlsberg and Fizzics, customers get a chance to win the draught beer dispenser in the promotional contest simply by purchasing Carlsberg products worth RM100.
3. Brand Visibility and Product Uniqueness
Promotional beer dispensers featuring your brand logo create an appealing and attention-grabbing presence at outdoor events or retail locations. The increased visibility helps take your brand awareness to a higher level and makes your brand more memorable among customers.
Furthermore, in a market where your competitors are offering regular items, offering a customized beer dispenser sets your brand apart from your competitors and gives you an edge in the pursuit of customer loyalty.
In The End,
The benefits of using customized beer dispensers as your promotional gift are immeasurable. Remember, a well-planned promotional campaign with promotional beer dispensers can help you gain more recognition, boost your brand loyalty, give your brand a positive public perception, and, most importantly, help give your customers that intriguing drinking experience they deserve.
How Can We Help You?
Do you want to be a pacesetter in your market? Do you want to stand out and make a difference with your promotional campaigns? If yes, then you're surely at the right place!
At UCT (ASIA), it's our joy to turn your dreams into reality!
We are the safest hands to hand over your marketing problems. From product manufacturing to product designing and packaging, to innovative marketing concepts, to custom branding. We can help take your brand to greater heights and more.
Contact us today to get started!