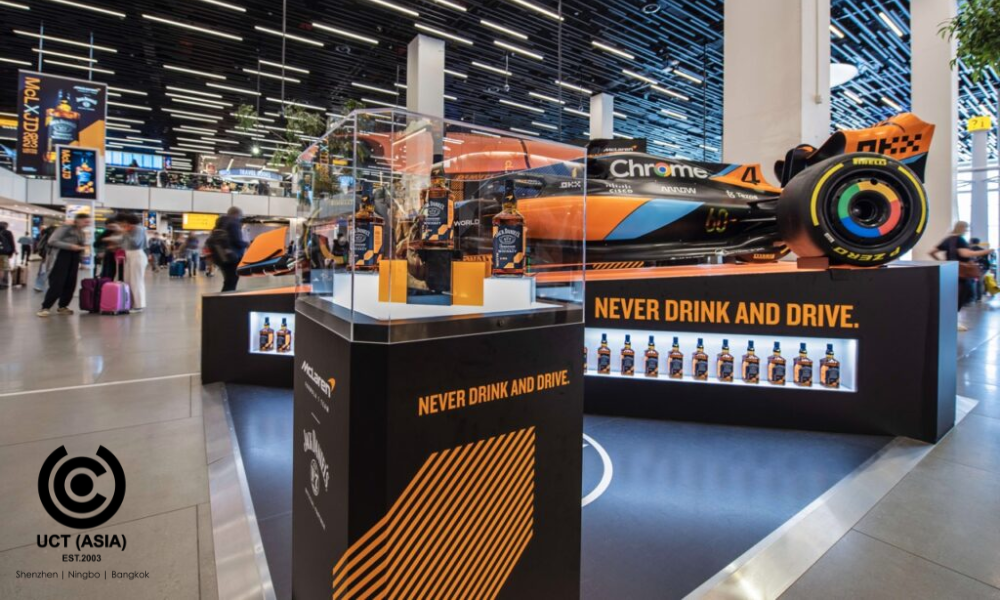 Do you want to deliver a captivating promotional campaign to a bigger market? Want to elevate your brand recognition? Have you considered the opportunities that airport pop-ups may have for your next marketing campaign? Airport pop-ups are powerful tools for reaching potential customers when they're most receptive.
This article will explore Jack Daniel's and McLaren's exclusive pop-up at Amsterdam Schiphol Airport.
All You Need To Know About This Exclusive Pop-up
Jack Daniels, the world-renowned whisky brand famous for collaborating with iconic and innovative brands, set up this exclusive airport pop-up in partnership with McLaren, a renowned British automobile manufacturer and Formula One racing team.
The visually stunning pop-up features a McLaren racing replica car to capture the attention of travelers and whisky lovers and offer an unforgettable shopping experience. Also, shoppers can sample the limited-time-offer bottle of Jack Daniel's whisky and are entitled to a complimentary gift if they purchase two bottles of Jack Daniel's.
Why We Love This Pop-up Display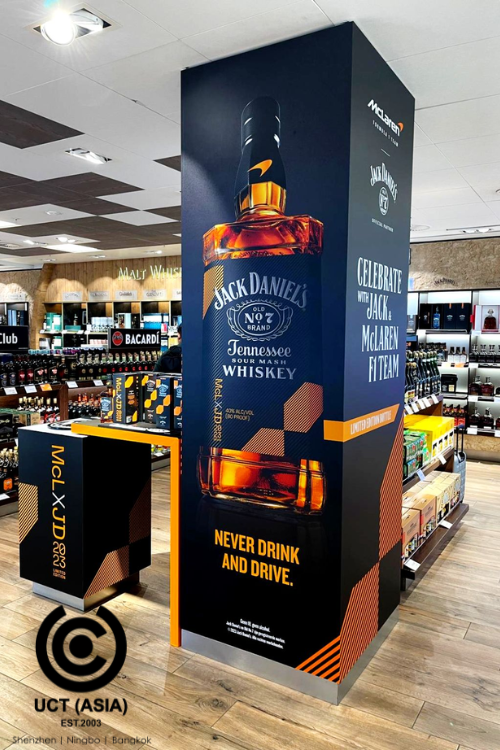 1. Irresistible Offer
Capturing the attention of travellers in travel retail spaces is a fierce challenge. So, to be effective, your pop-ups need to offer something irresistible. Jack Daniel's understood this and made the shoppers an irresistible offer that's exclusive and time-sensitive.
A tasting table is set up within the retail space, attracting whisky lovers to sample the limited-edition Jack Daniel's whisky on offer. In addition, customers who take home two bottles of the drink receive a complimentary gift. This is a genius strategy to entice customers to try the whisky and reward them for their purchases.
2. Limited-Time Exclusivity
The limited-time strategy in this pop-up is another reason we love this campaign. By offering a limited-time experience, this pop-up creates a sense of exclusivity and urgency that attracts travellers. This urgency can drive more traffic and generate excitement among potential customers.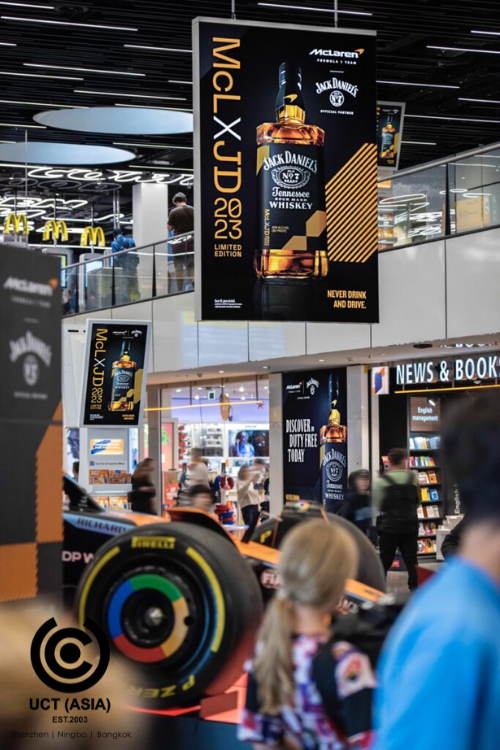 3. Elevating the Shopping Experience
The importance of giving shoppers a memorable shopping experience cannot be overemphasized. This collaboration is about selling whisky and creating an immersive and interactive experience that celebrates the worlds of whisky and motorsports.
The promo is a unique and exclusive experience that allows shoppers to see a replica McLaren show car up close. They're also encouraged to take photos and share their experience on social media.
4. A Captivating Out-of-Home Media Campaign
We also love the strategic use of outdoor media campaigns to ensure this exclusive pop-up event gains the deserved attention.
Digital screens broadcast visually engaging content related to the Jack Daniel's and McLaren pop-ups throughout the Amsterdam Schiphol Airport. These screens are strategically positioned in high-traffic areas to maximize visibility and draw more foot traffic to the activation.
Conclusion
The Jack Daniel's and McLaren pop-up is a brilliant marketing strategy that is sure to be a success. It's a unique, exclusive, and exciting experience that will appeal to travellers and whisky lovers alike.
In addition to the reasons mentioned above, we love this strategy because it's a great way to build brand awareness and loyalty.
By partnering with a well-known and respected brand like McLaren, Jack Daniel's associates itself with luxury, speed, and performance. This will help create a positive image of the brand in the minds of consumers and will make them more likely to purchase Jack Daniel's products in the future.
How Can UCT (ASIA) Help?
Our superb record over the years in collaborating with renowned brands across various industries speaks volumes. We've consistently successfully crafted and designed promotional products, eye-catching displays, and luxurious gift sets, among other creative ventures.
Let's embark on a journey to elevate your brand and create memorable customer experiences. Whether you're looking to make a lasting impression at airports, retail spaces, or any point of sales, we're here to make it happen.
Contact us now to get started!