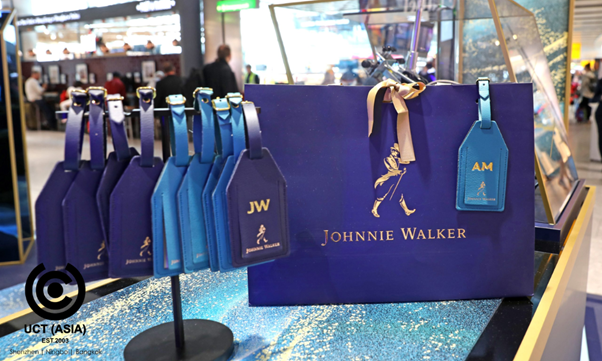 Johnnie Walker is at it again with something special. This time, the liquor brand surprised customers with a glamorous GWP campaign, offering promotional luggage tags to lucky shoppers in their Johnnie Walker Blue Label promo.
What Is This Promo About?
In this promo launched in a Dubai airport, Johnnie Walker offered travelers a remarkable shopping experience. Johnnie Walker upped their game by inviting travelers to the sample bar, enticing them with the featured Johnnie Walker Blue Label.
The experience was made even more memorable with the LCD digital displays, moving images, and soundtracks.
In addition, the brand is offering a free luggage tag for every purchase of the Blue Label.
Why Was This Promo Successful?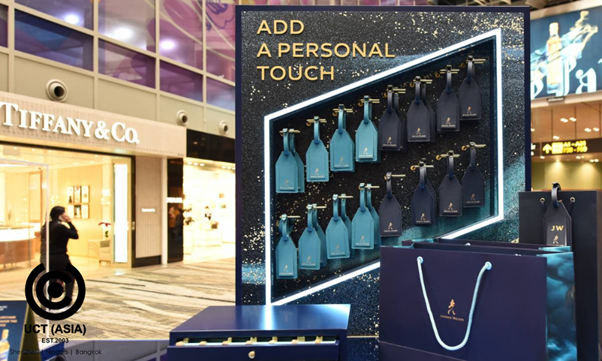 We've been in this business for years and it is our custom to constantly be on the lookout for outstanding marketing ideas to share with you. And this Johnnie Walker promotion is a perfect feature. So, here are 4 reasons why this promo was successful.
1. Luggage Tags Are Useful Items
When you talk about promotional gifts, the expectation is that they're complementary to the main product. However, this isn't always the case.
In this promotion, Johnnie Walker decided to use luggage tags that aren't relevant to the advertised Blue Label instead of the usual drinks gifts like bottle openers, glassware, etc.
These luggage tags allow recipients to mark their belongings, making their travelling experience stress-free. Additionally, the tags help airlines locate passengers easily, especially in the case of an emergency.
2. A Popular Brand Name Speaks Volume
Doesn't matter the industry, shoppers will always favour branded products. They'll always go for products by a reputable brand over products by unknown brands.
For example, despite being relatively expensive, customers still purchase Johnnie Walker's products because of their popularity and reputation in the market. Without a doubt, their popularity and reputation today are a result of the top quality of their products.
3. Stylish Design To Attract Attention
In today's marketing world, good design has never been more crucial to the success of a business. The most successful brands understand the need to prioritise attractive designs.
Truly, Johnnie Walker's custom luggage tag design is stylish and of top quality. Made from leather, they come with the brand's symbolic colours and are branded with its logo. This creates vital first impressions and helps differentiate the brand from its competitor.
4. Great For Advertising
As a brand, one of the most useful tools you can have is your business card. So what about a promotional item you can attach your business card to? A luggage tag fits the bill.
With Johnnie Walker's branding featured on the luggage tag and given out to customers, their business will always be on display whenever the recipients travel. This is a very cost-effective strategy to boost your brand.
In The End,
Custom luggage tags can help elevate your brand while also being useful to your customers. As shown by Johnnie Walker, these tools can massively impact your marketing activity and boost your business.
Are you ready to take advantage of these marketing tools? Let UCT (ASIA) help you!
Together, we can help you achieve your long-term marketing goals by creating outstanding marketing campaigns and impressive promotional products that suit your budget.
Contact us today!