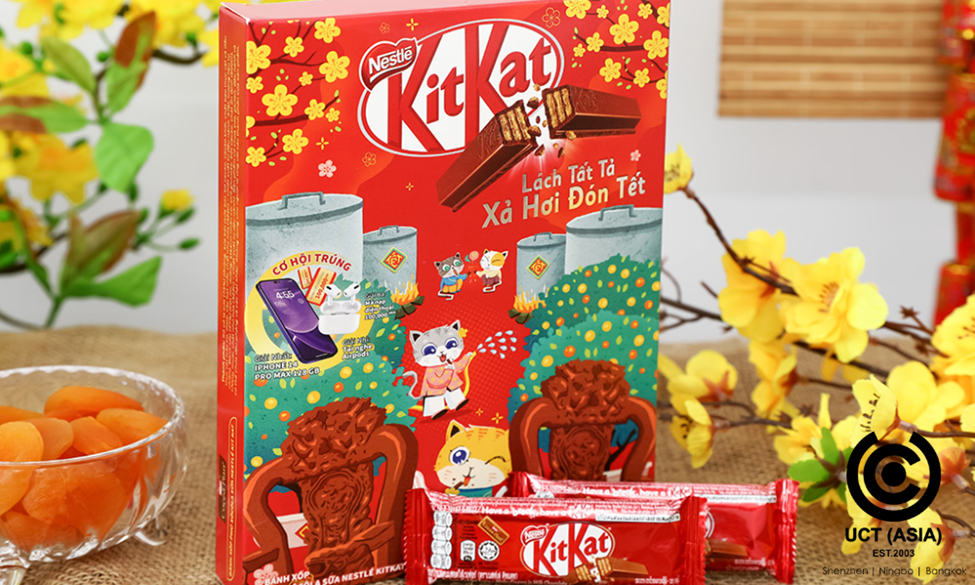 Holidays are beautiful moments to take breaks and enjoy life after a full hard working period. Gracefully, this holiday season, Kitkat has decided to make it more elaborate with its ongoing TET promotional contest idea in Vietnam.
Who is in? Come on and let's walk you through kit kat's ongoing TET promotional contest ideas!
KitKat is the first undisputed chocolate brand to use 100% naturally sourced cocoa through the Nestlé Cocoa Plan and Rainforest Alliance certification. The brand is well-known for its catchword, "Have a Break, Have a KitKat!"
How To Win The kit kat's Promotional Contest In Vietnam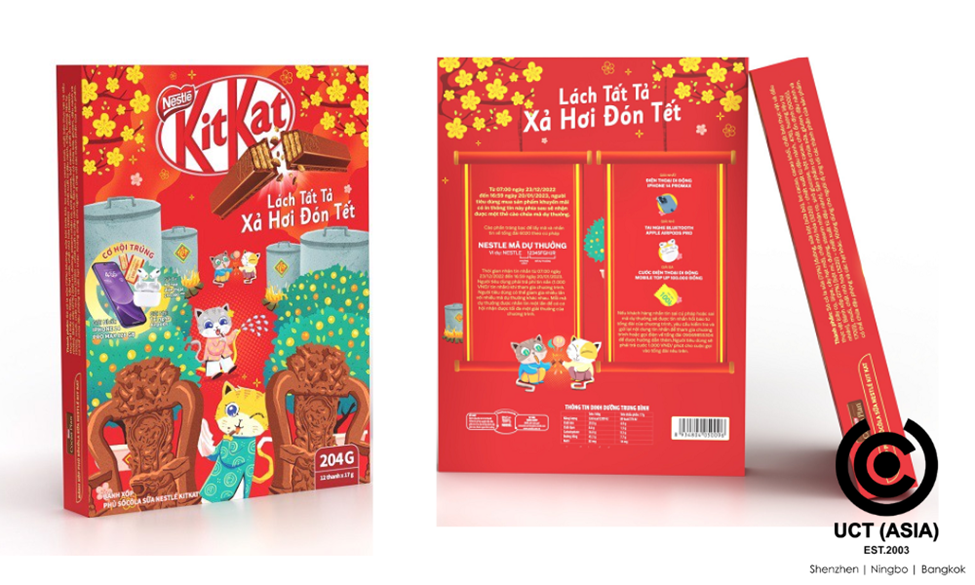 Promotional ideas are beautiful and they are one of the ways to show customers that you care. This time, Kitkat surprises its customers with sweet treats for the coming TET holiday. These treats come in the form of an in-store contest where customers can win premium items.
The rewards include iPhone 14 Pro Max (1st prize-28 winners), Airpod Pro Headphones (2nd prize-40 winners), and mobile phone charge code 100,000 VND (3rd prize-400 winners). Consumers can only join the contest after purchasing Kitkat Greentea 136g-TET and Kitkat 204g-TET.
Each of the boxes has a unique code at the rear of the packaging, which buyers can use to join the contest. The code can only be used once. However, shoppers can send their entry multiple times, meaning they have to shop for another product to get a new code.
After getting the code, shoppers would have to send it via SMS which they would receive a confirmation text from the program's board.
4 Ways Kit Kat's Promotional Contest Draws The Attention of Vietnam Shoppers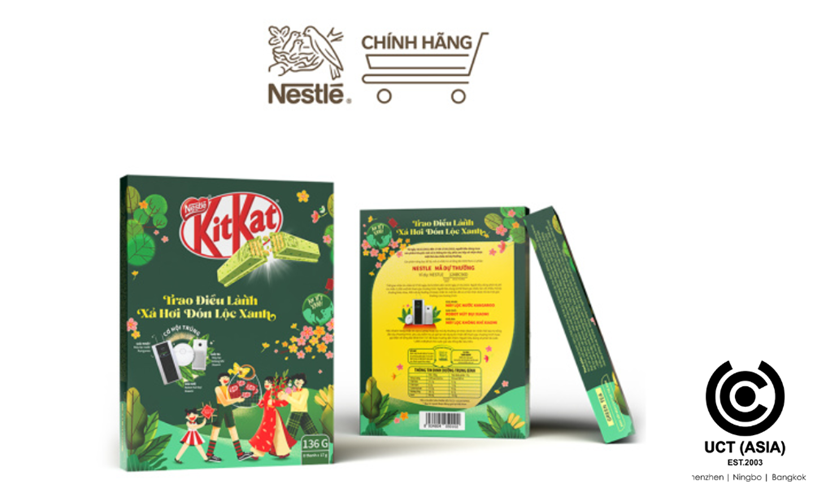 1. Premium Contest Rewards
Take a look at the promotional gifts Kitkat is giving out, you would notice they are exclusive and expensive. This shows how much Kitkat rates its customers!
Aside from the iPhone, Kitkat is also giving out AirPod Pro Headset and mobile phone recharge codes! This is such a big win for KitKats shoppers we must say and we are saying big congratulations to all KitKats shoppers in advance.
2. Creative Packaging
The inventiveness that comes with KitKats' creative packaging designs is so glaring and relevant to the season. The design package is synchronous to the festival and this vividly shows how the Tet holiday is being spent by the Vietnamese.
The packages come in different sparkling styles that can instantaneously intrigue the mind of shoppers and children even without viewing the content of the package.
3. Attractive Product Display
Aside from the packaging, its stylish in-store display of cardboard cutouts makes the display so accentuated by starring Kitkat's product model and the rewards to be gotten upon joining the promotional contest.
You would believe us that Kitkat is so clever and strategic and hence, they are good models for your next promotional idea!
4. Easy Way of Joining the Contest
Of course, every customer wants a fast and easy transaction and this is what Kit kat gives to its customers by providing them with the needed information and details for the contest. Hence, this makes it easy for the customers to participate in the contest.
And for customers who need more information as regards the contest, worry no more because KitKat has provided you with a support team that would assist you in the process.
To Sum It Up,
Kit kat is one of the most sought-after industries in the world and thanks to its clever and creative promotional strategies. Whether Tet holiday or not, Kit kat would never stop delighting its customers and that is more reason you should delve into this promotional strategy in your next giveaway contest.
Let's Help You At UCT (ASIA)
We are a multifaceted company that helps brands, industries and companies build their esteem amidst unlimited competitors.
We can help you create, design and produce contest prizes, promotional displays and promotional tools in your next giveaway contest.
Contact us today at UCT (ASIA)!