Flasks and whisky combine well with Grants on-pack promotion. You don't have to choose. With this promotion, customers can get an additional branded flask on two bottles of whisky.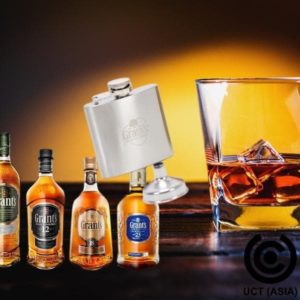 Grant was established in 1887, and William Grant and his family built the company. They drove and geared it to success. It all started as a small family business, and over 100 years and five eras, the family business still thrives, charming its whisky lovers with practical promotions.
Why do we like this branded flask:
The flask's elegance
The Grants branded flask is elegantly designed with its logo display at the front. It's visibly appealing, and there is a clear interpretation of what product is purchased with the on-pack promotion.
It's a perfect gift for whisky lovers.
This gift doesn't just offer two bottles of whisky; instead, a provision is provided to put them in and sip. Therefore whisky fans would always want to have the flask as a promotional item.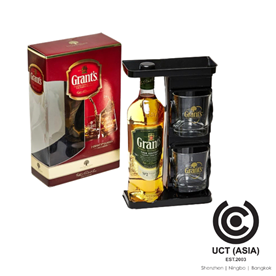 Its offer to potential users
Since it targets gin lovers who are potential users, the branded flask by Grant serves as a mobile advertisement.
Variety
Companies like utilizing promotional flasks because of the wide variation in styles and prices they can pick from. Promotional flask. It's inexpensive, and companies find it easier to get in different sizes.
A whisky flask is a thoughtful gift for any whisky lover, especially when it's your favourite brand's flask. It's stainless steel, also called "hip flask." It's an appealing add-on to Grant's whisky. It's a perfect complimentary gift when buying liquor.
Branded Flask as an On-Pack Promotion – Benefits
Flask is designed to hold a portion of hard alcohol which held in a pocket
It's a great technique to create product awareness and noticeable status. In the long run, these strategies boost brand sales. Branded flasks are valuable gifts and good for advertising a product. There's considerable space to write your name and logo the same way as Grant's branded whisky flask.
A branded flask standout. It's a product that will truly stick out on shelves. Unique, vibrant colors and unique shapes increase brand recognition and help with word-of-mouth recognition.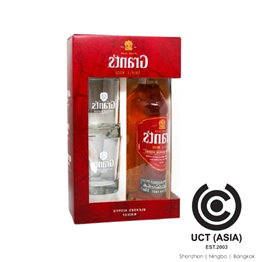 It stimulates sales. An on-pack promotion with this item is a useful tool that enhances sales. It's due to an increase in exposure. It has a high-quality look.
Companies that are interested in this idea can use the promotional flask for marketing their businesses during events. It's even more helpful if the people coming for the events are not brand employees.
Conclusion
If you love drinking your whisky on the go, then an on-pack promotion flask is an excellent drinking style. Contact us today to get a range of branded flasks for your business exposure. Our branded items suit all tastes and fall within your budget.
At UCT ( Asia), we believe it's a great on-pack promotion. So, businesses who are interested in making use of this similar idea or giving their customers or prospective customers matching gifts should contact us.

Here are some similar blogs on other products for you to look at: