Promotional merchandise contains a promotional champagne suit bag. Veuve Clicquot is a prestigious and world-class champagne industry in France. Brands investing in beverages need many promotional gifts to entice and keep.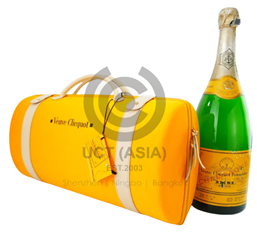 How does this promotional champagne suit bag assist Veuve Clicquot in winning more buyers?
Heighten Perceived Value
Indeed, a promotional champagne suit bag will certainly improve the value perceived as the packaging included is greatly elegant.
Premium
Top brands are supposed to utilize high-end gifts to maintain their spot. No one expects bigger brands to go for inexpensive merchandise. A classy champagne suit bag will enhance the value of each bottle. In addition, shoppers demand and will judge their preferred quality drink based on the label and packaging. So with this promo, customers are likely to select Veuve Clicquot over other competitors.
Innovative Design
The champagne suit bag is creatively designed with an umbrella handle which makes it useful to carry bottles around, making it an innovative promotional item.
Why Is It a Nice Promotion Product for Other Business owners in the wine industry
How can UCT( Asia) help?
It's awesome to have a fancy product packaging design like the Veuve Clicquot promotion suit bag. UCT (Asia) can assist you with it. We customize high-end packaging according to your tastes.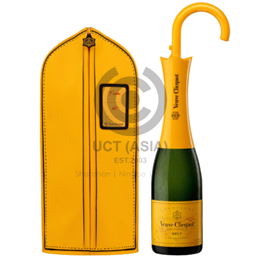 If you are a business owner, why not include new functions using it as a cooler bag. You can also include some EPE foil to keep your champagne cool enough.
If you are interested in exclusive items but not sure of a specific campaign you want, why not brainstorm with our team? At UCT(Asia), we offer affordable quality design.
It has a particular use and a targeted market.
Champagne suits bags give brands control regarding distribution. It falls into the rightful users that are interested in the service. Then, it means a better Return On investment when it is used because it's a powerful marketing tool.
It's a Reliable and Last Long
The longer the lifespan of a promotional product is, the better the exposure. It's far better than what traditional forms (Magazine or Radio) of advertising can give business owners. Therefore, when branding your business with a suit bag, many people would like to use it often to bag their suit. It is a classy gift that will help your purchaser reduce wrinkles so that your wardrobe arrives in shape for the big event.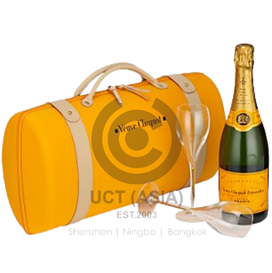 It's Outstanding and Memorable
A suit bag, in particular, is a classy gift, so it's certain; therefore, your consumer will remember it and your brand's name. People forget some types of ads, but an advertisement would last in a purchaser's mind. Consumers or potential customers value promotion items.
They Build Brand Awareness
This suit bag is brandable with your company logo. It leads to customers thinking about your brand the next time they use your product.
Conclusion
Contact us at UCT(Asia) for promotional products that are classy and cost-effective. We will help you design your promotional product branded in your logo to expose your business.

Here are some similar blogs on other products for you to look at: