A promotional product can be such an effective tool to keep your brand visible, leave a positive impression and remind your customers to come back again soon. Whether this is a long term product like the sweater below or even just a short term product that may be used once, it is still important that you select something that is effective for its purpose as well as suitable for and a good representation of your brand. Here we will have a look at promotional products and how to best choose the right ones for you.
What is a promotional product?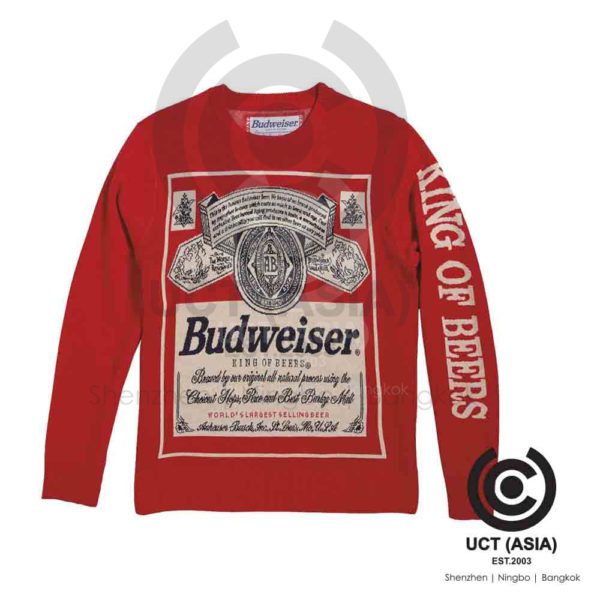 A promotional product is any item that is branded or in some way clearly tied to your company and that is given away for free in an effort to give people something useful and pleasant that will remind them of you when they use it. A short term product might be a drink or snack given away to tired, hungry and thirsty people in a crowd like a trade show which is likely to produce a strong positive impact though only for a shorter time.
A long term product could be something as cheap and cheerful as a pen or something more elaborate and expensive, but these items are more likely to be used again and again. It is important therefore to make sure this is something of some quality that won't break or not work the first time they use it, as brand awareness can go both ways and customers dislike a rubbish product even when it didn't cost them a penny. The idea is to give something that they will like and use again and again.
Why use promotional products?
Many companies elect to give away merchandise at trade shows, as part of a deal or just in store or by post to regular and loyal customers and potential customers alike. There are short term and long term products as mentioned above, with each having a slightly different goal in terms of time period, but essentially you are hoping to make a positive impression for your brand either right then and there with short term products or over years like with long term.
Further, it is likely that if one of your customers is using whatever it is you gave them for years, other people will see them doing so and will get a good image of your brand associated with that first customer and see them as advocating for you which can lead to more business. It is a relatively cheap and long lasting way to promote your products and make your customers feel happy and special all at once.
How to choose the right ones for your brand?
Now that you have decided to use a promotional product, it is crucial that this product in some way matches your brand, or at least doesn't detract from it. You don't want a fizzy sugary drink if you are a healthy-living company, or a notebook if you are all about digital innovation. Your promotional item should be effective as well as suitable, so here are a few suggestions to get you started:
A pen – yes it is an oldie but it is also a good choice. Without much expenditure you can give your clients something they will use and appreciate every day. And who doesn't always need another pen?
A fridge magnet – ditto the above, a magnet is tried and true, giving your brand pride of place in the part of the house visited more than any other and for a low price.
Clothing – from hats to scarves, t-shirts and accessories there are so many ways and places to get your brand on an item people will wear, see and show to others over and over.
If you are going for something a little more substantial or specialised try to really make connections with things people need and the service or goods you offer:
A mechanic could give something as small as a car air freshener and as big as a puncture repair kit or tools.
A dentist or health professional could go with a toothbrush or medical kit.
A restaurant or bar, branded glasses, aprons or cook books.
A fast food brand or café could use reusable cups.
A computer company could offer cases for devices, branded chargers or USB sticks in your colours or logo.
All of these and so many more promotional products give the customer a little extra incentive to go with you again, and leave them feeling special and rewarded. Think about how to effectively represent your brand today and get promoting with your own merchandise.