Promotional umbrellas are one of the most popular marketing gifts in the industry due to their versatility. They can be used in a variety of promotional campaigns and are affordable to produce. Umbrellas also have a high perceived value, which means that they are often reused and not thrown away after one use. This makes them an excellent choice for brand marketers who want to get the most bang for their buck. They can also be customized with logos, colors, and other branding elements to create a unique product that will help to promote your brand.
How To Improve Your Umbrella Advertising Campaign?
Focus On Brand Exposure
Promotional umbrellas are a great way to get your brand noticed, especially in crowded places like airports. They can be used as outdoor displays, and because they are practical items that people will need, your brand is likely to get more exposure than with other promotional items. Plus, you won't have to regularly replenish the umbrella supplies, so your brand will save on the marketing budget.
Use Bold and Clear Designs
So much for your abstract and cryptic designs, it's probably time to tone it down a little bit and have a look at the minimalist approach. Designs like these prove to be more effective than complex ones.
High Quality
It is important to consult with our product designers if you want to create a branded umbrella that is captivating and eye-catching. Our designers can help you create an umbrella that is not only pretty but also made of high-quality materials. With our help, you can get an umbrella that fits your marketing budget and needs. We can also help you choose the right material for your umbrella so that it will be durable and long-lasting. If you want something innovative and unique, this promotional fan umbrella is trendy merchandise that you should consider having in your upcoming marketing plans.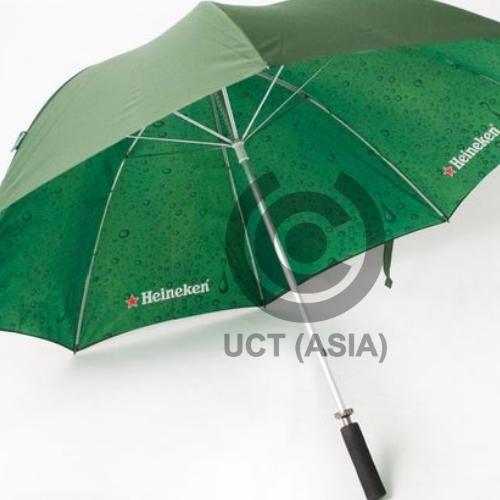 Innovative Designs for your Branded Umbrellas:
Hi-reflective umbrellas:
This Hi-reflective Umbrella is perfect for anyone who wants to feel safe at night. It is made with a special material that glows in the dark, making it visible from a distance. The bright, reflective fabric helps to reflect light, making it easier for drivers and pedestrians to see you in low-light conditions. This makes the Hi-reflective Umbrella an essential safety accessory for anyone who plans on being out and about at night. Whether you are walking the dog or going for a run, this umbrella will help keep you safe and dry.
Storm Umbrellas:
Normal umbrellas are often useless in high winds, and can even be dangerous, as they can turn inside out and become projectiles. The storm umbrella is designed to withstand wind speeds of up to 100 km/h, making it a strong and safe option for inclement weather. In addition, the storm umbrella's canopy is made of water-repellent material, so you can be sure that you'll stay dry even in the heaviest downpours. With its innovative design and top-of-the-line materials, the storm umbrella is the best option for staying safe and dry in any weather.
Inverted Umbrellas:
The inverted umbrella design may seem strange at first, but it actually has some advantages over the traditional style. For one, the inverted umbrella is easier to open and close. It also prevents the water from dripping on you when you're carrying it, which can be a major plus in wet weather. Additionally, the inverted umbrella takes up less space when you're not using it, making it more convenient to store.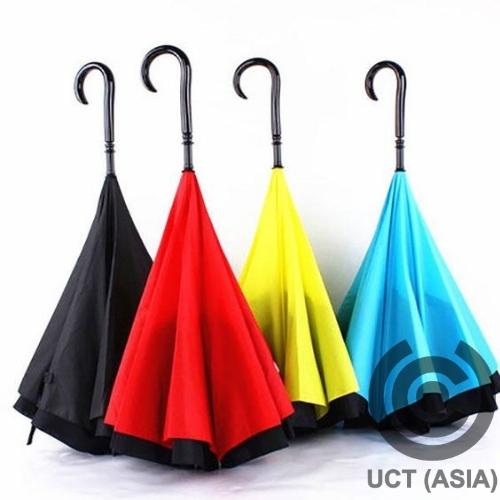 Umbrellas with High-stand Cooler and Speaker
When the weather is nice, there's nothing better than spending time outdoors with a cold drink in hand. Why not take that experience to the next level with an umbrella that features a built-in cooler and speaker? This way, you can stay cool and entertained while you soak up the sun. So, whether you're listening to music or streaming a podcast, you can do it without ever having to leave your umbrella.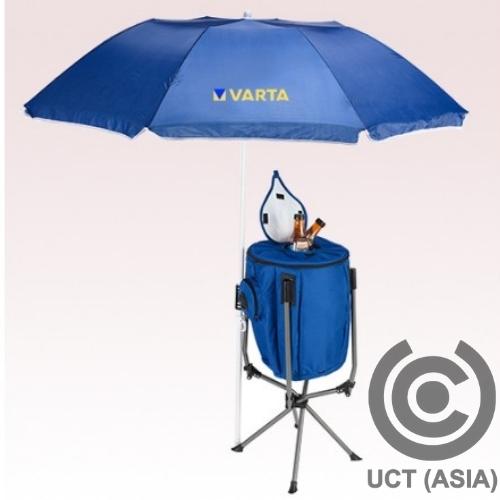 How can UCT Asia help?
So, if you are thinking about a marketing campaign for your business and would love some help, feel free to contact UCT Asia. We can help you design and source high-quality custom promotional gifts and retail merchandise.