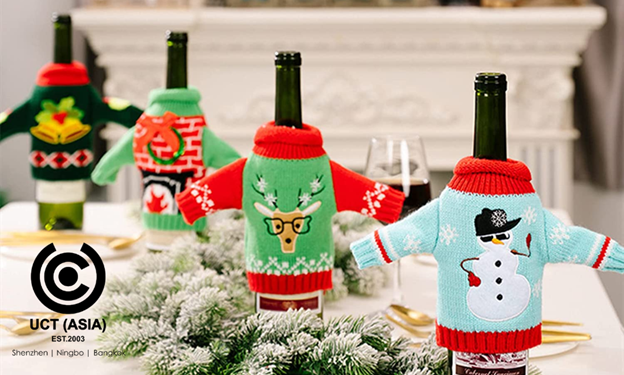 Year in and year out we experience varieties of seasons in their shades of beauty. With every season adding its sweet fragrance to the year, one very outstanding season to behold is the Christmas season!
Yes, it's another Christmas season of the year to pop that exclusive wine with your loved ones!
And a wonderful time of the year to share beautiful and passionate moments with our families and loved ones!
As the year closes up, the wine market floodgate is open with countless competitor brands rushing to cash out in a spending frenzy and this is why we have brought you this unique Christmas promotional item for your wine business!
Branding your wine bottles in customized sweaters is a remarkable promotional strategy to outlive the frenzy that comes with marketing during this Christmas season.
Every brand is in the quest to promote its product this season with the diversification of interest into different marketing strategies that could drive traffic for them. Hence, the need to package your brand most uniquely and remarkably as possible to boost the visibility of your brand among thousands of competitive brands.
Let's Look At The Overview Of This Promotional Strategy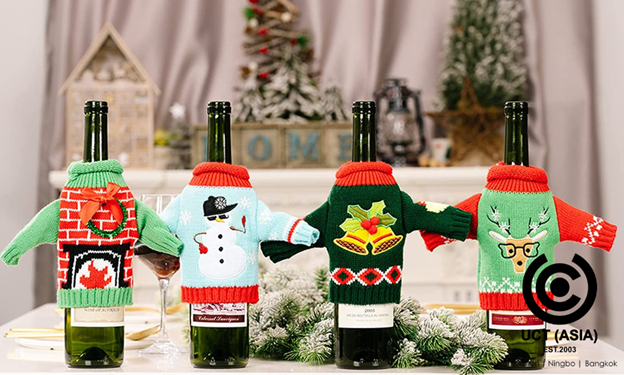 Branded wine bottle sweaters are not just unique and fantastic to look at from the shelves in the stores, they also are great ways to give off an honest impression about your brand.
If you look at this intelligent merchandise suggestion, you would notice that the sweater is a well mini-knitted sweater of polyester origin.
With their customized and spectacular designs, these knitted wine bottle covers offer an incredible opportunity to add an appealing touch of superiority and difference to your wine collection this festival season.
Aside from being dapper, they also work like koozie and its intrinsic feature helps insulate the drinks and also keeps the juices inside it chill. One exceptional part of branded bottle sweaters is their aesthetic effect on the wearer. Some of the branded bottle sweaters can be worn by customers with well-crafted pockets to reserve your wine bottles.
Reasons Why You Should Adopt This Promotional Strategy For Your Next Christmas Promotion!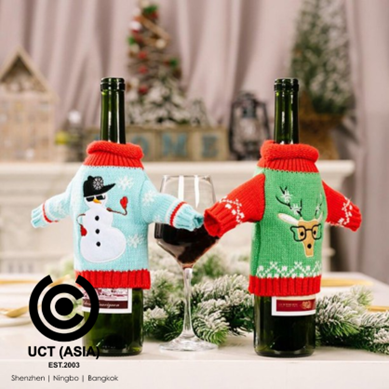 1. Create A Memorable Holiday Promotion For Your Customers
Holidays like Christmas are usually wonderful times to celebrate and make merry. However, what use is it to making merry that creates no memory for nostalgic feelings in the future?
If you look at this branded bottle sweater, you would notice how simple yet ethereal an effect such designs would produce in the emotional stability of your customers.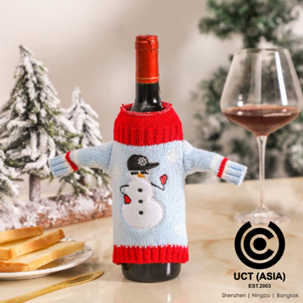 2. Easily Customizable With Brand Logo
This promotional strategy provides room for easy customization of a brand's logo. The sweater alone has a wide surface for large imprints of the brand's name which invariably promotes wide visibility for a greater audience.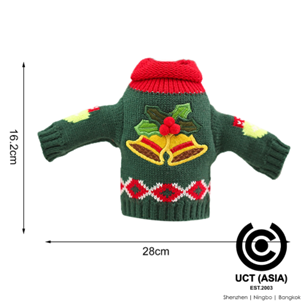 3. Easily Turn Your Wine Bottle To An Exceptional One
Every wine comes in a bottle and only promoting your wine in a branded bottle sweater would make your brand exceptional and distinct from other branded bottles in the market.
It would also increase the unmistakable nature of your brand each time it is displayed in the market.
To Wrap It Up,
Make your customers believe in your brand by showing them a tokenism of love and affection through your promotional strategy.
Christmas brings with it a great rampage in business with so many brands trying to portray their products in the best way possible and you can only stay up high in the clouds with promotional strategies.
Let's Help You At UCT (ASIA)!
Christmas is a time of spending and advertising frenzy from both customers and brands respectively.
Making marketing decisions that are unique from the general market could be tasking and tedious. This is why UCT (Asia) has come into the picture to assist you in choosing the most befitting promotional strategy for your brand.
Let's work together to get your brand on track again with our various marketing ideas such as POS displays, gifts with purchases and many more.
Contact us Today At UCT (Asia)!