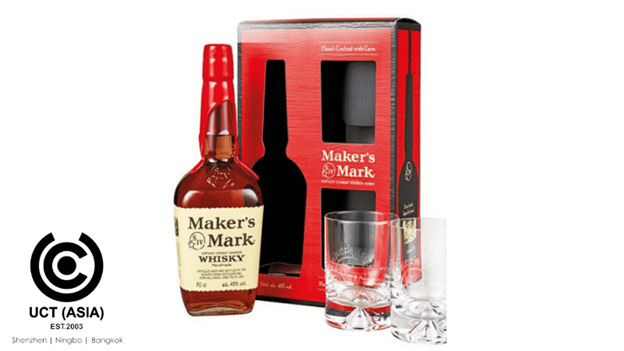 Imagine two powerful brands offering irresistible elegant drink glasses as gift-with-purchase! If established brands of over decades still thrive in the market with their practical gifts, your brand should not be an exception!
It is not a new fact that gifts are powerful tools for promoting one's brand. They can capture both the physical and emotional being of a customer. They form a strong sense of belonging and appreciation for customers.
However, as a brand, not every gift is befitting of your brand. Gift-with-purchase must reflect the brand and service you are promoting, which is why UCT (Asia) finds Jim Beam and Maker's Mark drink glasses as a gift-with-purchase is irresistible!
Jim Beam and Maker's Mark are two powerful world brands of Bourbon. With so many years of experience and transition, their refreshing taste still mimics what the brain tags as tantalizing!
Since its inception in 1795, Jim Beam has had an outstanding value. Consequently, it has been regarded as the world's number 1 bourbon whiskey.
Invariably, Maker's Mark, a small-batch bourbon whiskey established in Kentucky, USA, in 1953, has retained its renowned fame as one of the world's best bourbon with its smooth flavored taste.
Why Do We Vouch For These Promotional Gift By Jim Beam And Maker's Mark?
The exquisitely designed drink glasses are an archetype of the family collection of cognac bottles. These gift-with-purchase drink glasses come with Maker's Mark logo making their product more visible for patronage by customers.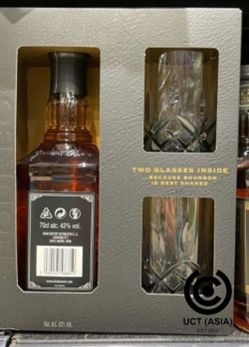 The premium quality of this promotional gift can not be ignored, especially with the imprints of the brand's name on its rare, making the uniqueness of this brand non-negotiable.
Why Should You Choose These Elegant Glasses As Your Next Promotional Item?
1. An Edge Above Your Competitors
Nothing sounds surreal to a brand as pioneering an initiative and climbing the marketing rank to become the best while others follow! How do you scale up yourself when you have another fast runner on the same track?
That is why you need to be ahead of others to skyrocket your brand to your dreamland. How do you ramp up your brand, then? Offering gift-with-purchase like Jim's and Marker's irresistible drink glasses are practical ideas to augment your brand over others.
2. Increase In Your Brand's Publicity
Your promotional gifts should reflect your brand's offers to satisfy two complementary demands. Glasses as a gift are a super match for whiskeys. The pure satisfaction of sipping bourbon on a perfectly suited glass is an endearing moment!
Also, when used regularly, this excellent branded glass can create a memorable awareness of the product in customers' minds.
3. Ignite Sales And Enhance Value
Ingenious promotional ideas are the surest ways to cash out as a brand. A valued brand is a rich brand! A gift with purchase is a symbol of appreciation from a brand.
This gesture concurrently produces a good effect on customers, which can invariably lead to more patronage from the same customer and more.
Finally,
Move the needle and let others watch how you did it. Business should be intentional and adventurous! Promotional ideas will spice up your brand one more time.
Let's Have You At UCT (Asia)
Ever lost it in your business? We can work it out again here at UCT (Asia)! We are frontiers in pioneering the best business strategies to skyrocket your brand.
With our several years of experience in the spirit and beverage industry, we promise to provide you with the best marketing and promotional strategies to boost your sales.
So, Contact us today to get started!