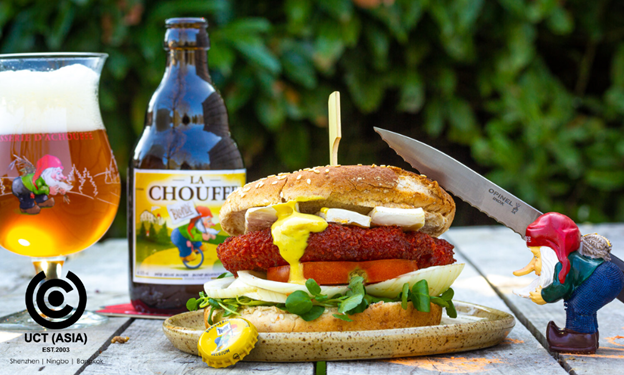 From the tropics to the temperate and everywhere in the world, gifts would always do better in business gratification. Gifts are necessary for brands' to offbeat traffic in any industry, but unfortunately, most brands only promote their brands during the yuletides.
Gifts are little drops of water that make a mighty ocean in business. Customers may indirectly tag a brand without a promotional gift as frugal. With this label, sales lessen, and value dwindles.
Promotional gift sets rejuvenate a brand and dovetail it to its customer's interest. That is why we would say La Chouffe is on the right path to firing up its sales.
La Chouffe brewed in 1982 and since then has taken the place of a legend in the brewery industry worldwide. This unfiltered Belgian blonde beer is a medley of unique flavors and tastes. Its taste of hops brings it spiciness, acidity, strength, and bitterness, giving it an all-in-one taste – no wonder it's the first love for beer lovers worldwide!
You would wonder why La Chouffe has earned this much fame! However, La Chouffe's market value wasn't in a day. It was a constantly built legacy for years.
What Are The Mainstay Marketing Games Used By La Chouffe To Ignite Its Brand?
1. It's Customised Gift Packs
What you have in sight is what you have in mind. Promoting your brand is a tulip to a fantastic business but promoting merchandise that reflects the usability of your products is the best. Promoting gifts that can bear the logo and imprints of your brand through customization is an incredible strategy for nurturing brand-client relationships.
Let's look at La Chouffe's gift set design; it's designed with the same gnome, Marcel, with the company name. You will realize how integrated everything about La Chouffe is, just in a gift set. With this, customers would recall this brand each time the glass is used.
2. It's Purpose
What is the essence of promoting your brand with a gift non-relevant to the service or product you sell? If you must bump up your sales with promotional gift sets, endeavor for your offering to be complementary and pragmatic. Your gift must be jointly associated with the kind of product you sell.
La Chouffe is tactical in both aspects. Branded glass as a gift set has affirmed its complementary effects.
3. It's Portable Packaging
Carrying a heavy product sometimes can be no easy feat for shoppers. That is why consumers would prefer getting a well-packaged product that is handy and comfortable to hold.
La Chouffe's decision of a packaging box to retain both the product and the gift it bears is a commendable one. This packaging box comes in handy, easing the stress of carrying too many loads.
To Wrap Up,
A neat presentation of your product is a sure secret to augmenting a brand. Try these promotional sale strategies in your next promotional campaign!
We Can Help You At UCT (Asia)
We have loved your growth over the years and would want more of it. Let UCT (Asia) help you grow to your better self with our promotional ideas and items for the sustainability of your brand.
Contact us today at UCT (Asia)!