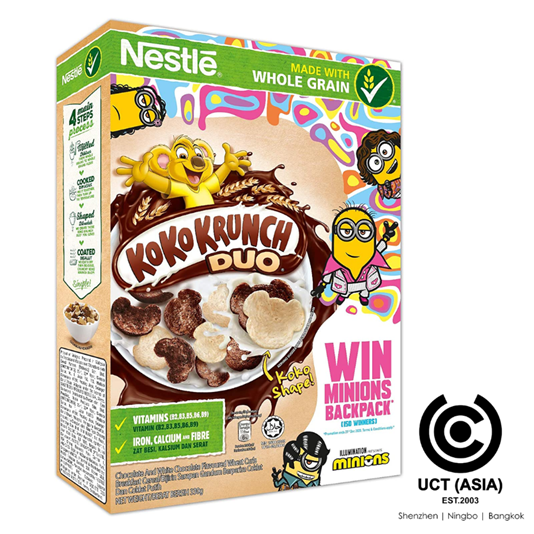 Sustaining a brand in a very competitive business demands cleverness and strategies! Every brand owner is on the run for exceptional boosters for their brand.
Getting customers to love, value and patronise your brand is indeed a game-changing achievement for a brand. But most times, brands are faced with the problem of what to do to best engage their customers.
This is why promotional strategies are a necessity to actualize this. Promotional strategies are pragmatic ways to kindle the bond and interaction between customers and brands.
Invariably to this effect, Nestle Kit Kat has initiated a clever strategy to boost customer interaction via their minion-themed exclusive promotional backpack.
Features Of Nestle Kit Kat Promotional Strategy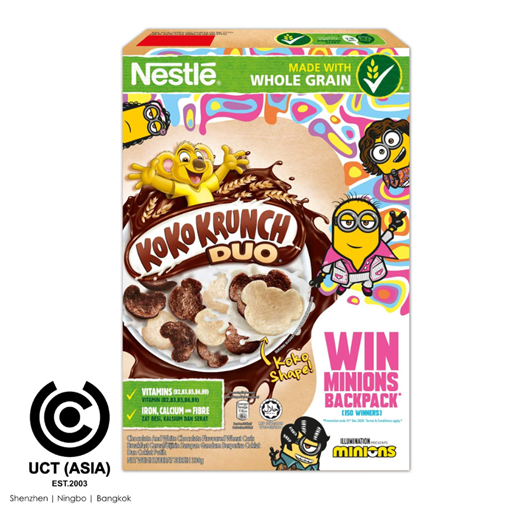 The versatile nature of this promotional strategy is all-encompassing. Recently, there has been an increase in minion-theme collaboration with Nestle and this has brought Nestle to the limelight.
From the splendid cereal packaging and customized POS display to the promotional giveaway where customers stand the chance to win a backpack, customers are enthralled and can't get over Nestle.
Taking a cursory look at the custom POS display in stores, you would realise that Nestle wants more of your comfort and happiness than the purchases you make. That is why you would always be held spellbound by the touch of creativity used in their designs every time you sight a Nestle kit kat product on a shelf.
Why We Recommend Nestle Kit Kat Minion-Themed Exclusive Promotional Backpack As A Promo!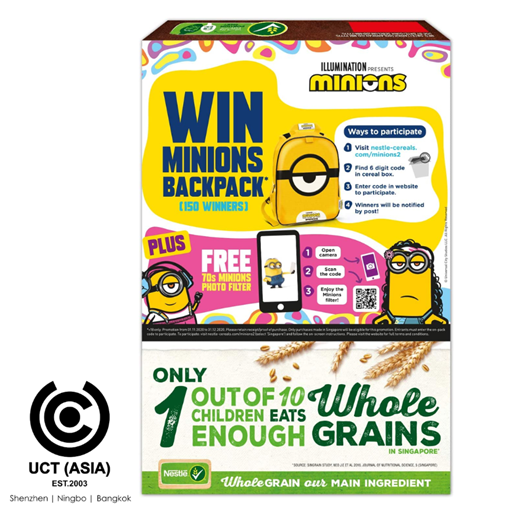 1. Instant Attraction
Minions are beautiful ketchup to spice up the packaging of brands. With the cute comic minion movie characters, children are held spellbound once they come across such brands with minion imprints on them and parents can't help but purchase such products.
2. Increases Brand Awareness
Awareness is one of the forces in the market that can't be overestimated. Customers purchase what products they mostly know about.
Customized packaging of Nestles variety of products like Koko Krunch, Milo and Honey stars has made Nestle stand out on the shelves in the groceries from other products of similar services.
3. Boost Sales
Who could stand the pestering of children for purchases that they love? However, with minions being comic and popular cartoon characters among children, the need to buy such products would surely pop up once a child gets a flash of Nestle Kit Kat products from a distance.
Also, it's a necessity to buy goodies for your kids once you step out to shop and getting designed cartoon products is such a surreal one for such kids. Apart from children, adults are not left out of this amazing offer!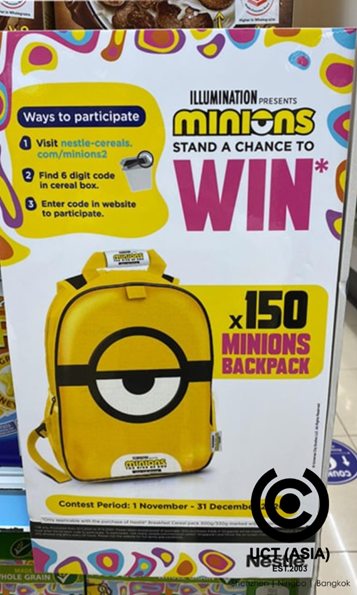 4. Repeat Purchases
Despite the cereal packaging, Nestle is giving away a 150-minion backpack! To get this, customers have to join a 6-digits code found in the cereal box.
This is an intelligent way of also boosting sales because there would be a repeat purchase which invariably leads to an increase in the chances of customers winning the minion backpack.
In Conclusion,
Promotional Giveaways are a definite and easy way to publicize your products in the market. Since cereal is such an essential staple in our daily engagements, the Nestle Minions-themed cereal box will be caught sight of on a shelf!
Let's Help You At UCT (ASIA)
Caught in ecstasy with this promotional strategy modelled by Nestle? Then contact us today at UCT (Asia)! With our years of experience in marketing and promotions, we can help replicate something much more spectacular than this.
We are experts in promoting brands and businesses. We are also apt when it comes to services like gift-with-purchase, POS displays, On-pack promotions and many more.
Contact us today at UCT (Asia)