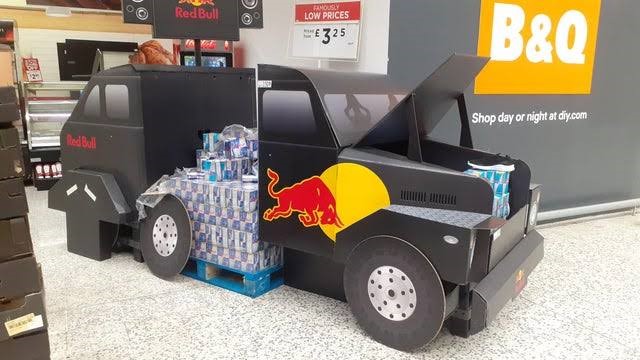 A brand's in-store display of its product is an important factor that influences a shopper's decision to make a purchase or not. To attract shoppers, especially in a competitive industry, your brand's creative and unique presence is needed.
Red Bull, a brand popular for its energy drinks, pulled off an impressive point-of-Service cardboard display. Besides owning an Energy drink brand, Red Bull has, over the years, built a great impression on its target customers with its connection with extreme sports.
Talking about extreme sports, Red Bull has focused mainly on motorsports. This may have been the inspiration behind this exciting cardboard POS display.
We couldn't ignore the display which is a replica of Red Bull's sports car. The dominant presence of the display makes it more catchy and guarantees interaction in the retail floor space. So we decided to bring to you notable discoveries from this exciting cardboard car POP display.
Why This POS Display?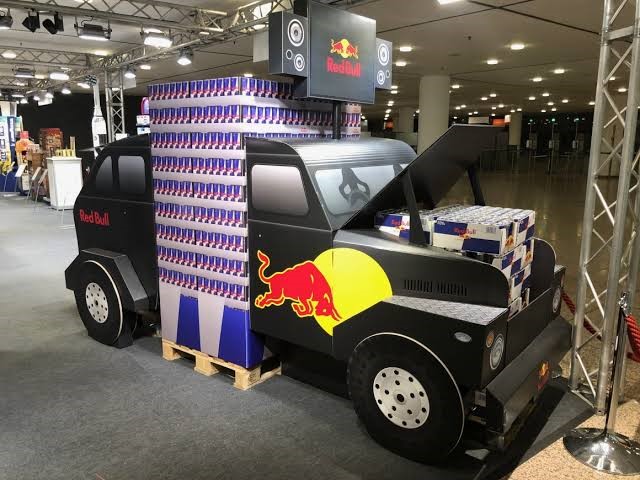 1. Encourages Versatility
For your POS display, using versatile materials such as cardboard is important. This is because they can be easily cut and folded into different shapes and sizes of choice, which allows a wide range of creative concepts with your designs and customisation.
Furthermore, personalised Corrugated in-store displays are not so difficult to design and generally require a few tools.
2. It Is Affordable
Cardboard POP displays are less expensive setups than metal, plastic, or wood displays. In addition, transporting the cardboard material costs way less than the other alternatives.
Of course, the options of plastic, metal, and wood last for much longer. However, it is likely that soon, you'll want to update to a newer and more exciting design, which makes the more affordable cardboard the ideal choice.
3.   Fast Setup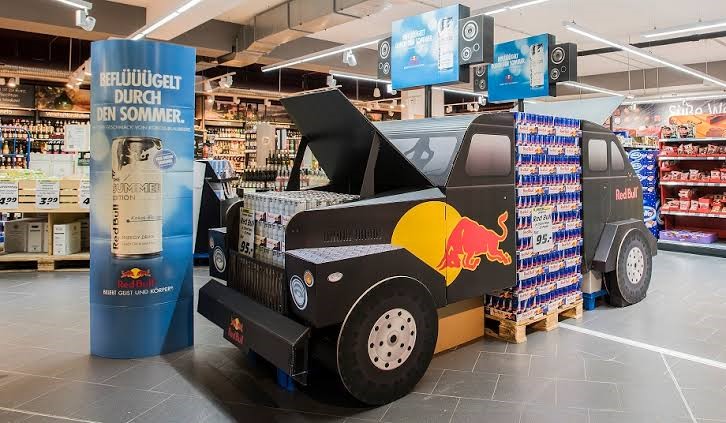 In comparison to other materials, setting up an in-store cardboard POP display is faster. This makes it easier to adopt a new display concept. Also, changes to existing designs can be quickly implemented. This makes cardboard the ideal option for short, seasonal marketing campaigns.
4. Visually Attractive
To attract shoppers to your stand, you have to create appealing displays. With visually attractive cardboard displays, several graphic designs like stickers and labels can be blended in to enhance its appearance.
Also, you can incorporate digital printing techniques to give your cardboard displays a lively feel. Of course, these designs can be used on other materials, however, they would cost way more.
To Wrap Up,
Cardboard is an ideal material for your in-store displays because of its versatility, lightweight, and easy mobility. If you want to create an exciting personalized POS setup, especially for special promotions, then cardboard is a go-to choice.
How Can UCT (Asia) Help?
Here, at UCT (Asia), we're constantly seeking innovative POS display ideas to help you attract customers and grow your brand. We're partners with the best product designers in the whole of Asia and can help in the planning and designing of your new marketing and promotional campaign.
Contact us today to get started!