You can never go wrong with a branded ice bucket. Especially during summer when the weather is very hot and the rate of dehydration is much higher. During those moments, drinks are best served chilled with some fruity toppings in order to replenish lost nutrients. You'd be a lifesaver to serve drinks coated in an ice bucket at that dire moment. This will not only make consumers extremely satisfied, but also make your brand unforgettable in their memory.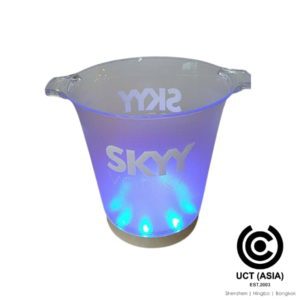 UCT(ASIA) had an analytical brainstorm on the recently featured skyy vodka ice bucket produced and distributed in Washington, United States. We thought about its uniqueness and the various marketing advantages you can get from this promotional merchandise. It is important to note that UCT has the best manufacturers and suppliers to produce the most befitting promotional merchandise for your company.
So, contact our team today, and let's get your next marketing campaign started!
What Makes This Branded Ice Bucket A Unique Marketing Advantage?
Excellent Addition To Trade Show Marketing
For beverage-selling bars and restaurants, this merchandise helps to create a limelight spot in your bar. It promotes the thrilling effect of having fun moments on people, it essentially increases the level of excitement of customers. This is a huge factor that contributes to your bar/restaurant standing out and keeping customers flowing.
This is a huge advantage to beverage companies. This provides an adequate means of brand visibility and increases people's loyalty to your brand. Reasons being that your brand was at the center of attention when having their fun-filled moments. The thrilling feeling of excitement and ecstasy is automatically attributed to your brand. This is awesome, right?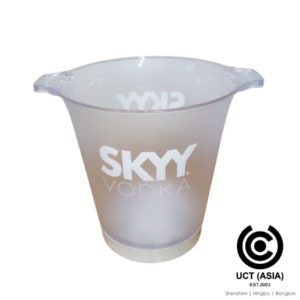 Ecstatic Design
Creative designs have never failed in gaining people's attention. Being innovative with brand designs contributes greatly to the efficiency in gaining more leads generated. Now, leads are your target customers, people that your products are suited for but are yet to choose your brand for patronage.
One of the important goals every marketing campaign aims to achieve is lead generation. A branded ice bucket gives you the opportunity to get creative and innovative with your design, this, in turn, increases your brand awareness, visibility and hastens new customer generation. A good example is this UCT(ASIA) featured promotional merchandise. Ensure to contact us now to create your branded innovative ice bucket!
Immaculate Versatility
You might be pondering the fact that ice buckets have just one basic design and you want something spectacular and distinctive. Well, I'm here to correct that wrong assumption. Fortunately and surprisingly, ice buckets come in various forms and sizes, giving you the leverage of choosing the perfect form and design as you deem fit.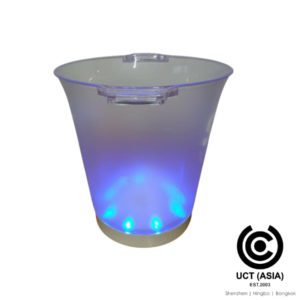 To be more explicit, we have some ice buckets that come with a customizable stand that gives you more branding space, we also have them in form of wooden beer storing barrels with rope handles on each side – this is an exceptional form, and some come in form of wooden traditional circular buckets.
What Can We Offer?
With several years of experience in the Beverage and Spirit sector, UCT(Asia) has gained expertise in the creation and design of marketing products that range between on-pack promotions, POS Displays, Corporate gifts, retail items, and point of sales Merchandise, all at an affordable cost.
So, are you finally ready to stand out from your competitors? Or do you want to create an emotional connection with your customers with our durable promotional products?
Contact us today to create your branded ice bucket merchandise.