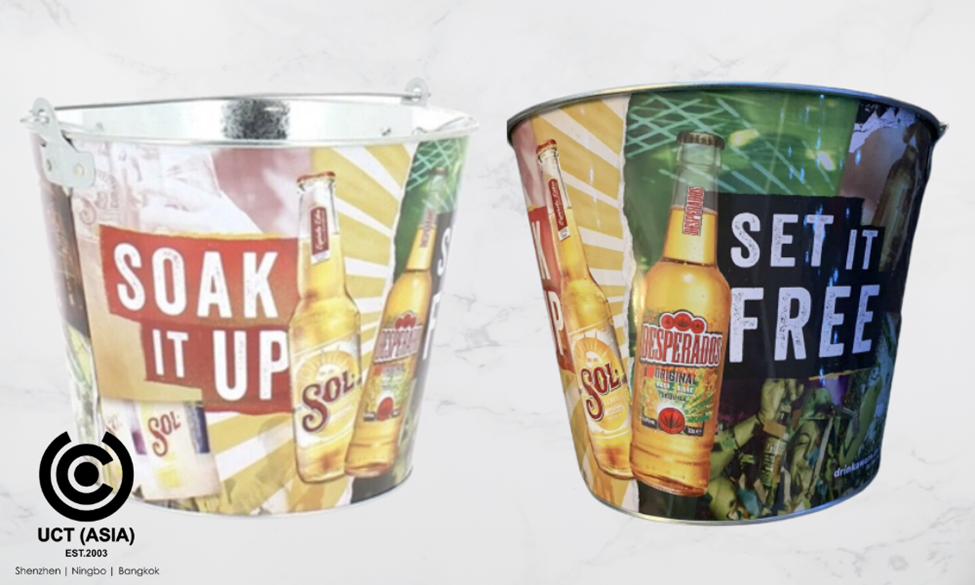 Do you know you can become the best liquor brand out there by just being a little creative with your promos? With lots of alcoholic beverages and rivals out there, it seems almost impossible to make a remarkable impression on customers.
The big question is, how can you make your customers impressed with your brand and products?
A look at Sol and Desperado's beer collaboration may be the answer to your endless questions! This duo collaborated to produce an exquisite custom-branded ice bucket to incentivise their customers.
Sol, also known as Sol Cerveza, is a Mexican-produced Lager that was created in 1899 in the city of Orizaba, Mexico, at the time of their independence. This crisp, clean golden lager is a beer for those who are free-spirited.
Desperados is a tequila-flavoured pale lager beer with 5.9% alcohol by volume created and produced by the French brewing company Fischer Brewery, now produced by Zlatý Bažant Brewery.
Unlike others, Sol and Desperado's legendary collaboration of a custom-branded ice bucket draws in customers on the spot. This promotional strategy allows instant usage right after purchasing the products. It then means that customers are sure to enjoy a crisp, chilled, candy of icy beer even after hours of purchase!
How To Get This Ice Bucket!
Purchase a 3 x 330 ml Desperados Beer and 4 x 330 ml Sol Beer at £4 each and get a free metal bucket.
Benefits Of A Custom Beer Bucket As A Promotional Campaign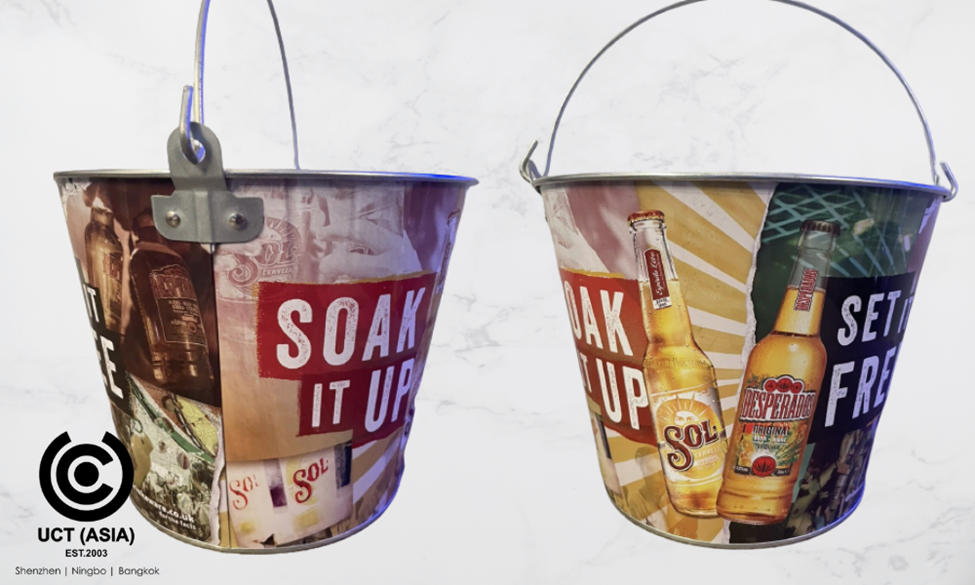 1. Versatility
Custom beer buckets are so practical and conventional that they can be used for cooling other beverages aside from beer like soda, juices, water and many more.
The versatile nature of custom beer buckets also promotes the brand's exposure as the branding on the body of the bucket is on full display every time customers use their marketing gifts.
2. Durability And Visibility
These are wonderful and intrinsic characteristics that every gift with purchase should have and thankfully, Sol and Desperados' just beer ice bucket got this.
Sourced from a metal alloy, plastic and stainless materials, the durability of this gift can not be overemphasized.
It's so wonderful how durability and visibility go hand in hand. The higher the durability, the more visibility. This then means that the more lasting and in-use a gift is, the more the brand recall and visibility.
3. A Great Marketing Item
When it comes to marketing, brands are always selective and careful not to make mistakes. They prefer choosing gifts or items that go with the season. However, that is not the case for custom ice buckets. They are perfect for all seasons. Customers would love their beers served chilled every time.
Nonetheless, if you think summer is the only time you can market a brand, then that is untrue. You can take advantage of the versatility and usefulness of a beer bucket and upsell alcoholic beverages. This is so true for Sol and Desperado who certainly made the most out of this cool promotional product.
4. Advertisement And Brand Awareness
Advertisement doesn't mean only when you go to the media house to broadcast or publicize your product or perhaps when you upload your brand on social media! Advertisement happens everywhere your brand, product or its label gets!
Customized beer buckets are excellent ways to publicize your product. Since, buckets are major households, restaurants, bars, and corporate party items, customizing your products with your brand's logo would go the extra mile in fostering awareness.
Finally,
Customized beer buckets are great marketing gifts for your customers. Customers love their drinks served chilled, iced and crisped! But, do you know you can also augment your campaign with other interesting alternatives? These include custom-branded coolers, beer glasses, deck chairs and many more.
Let's Help You At UCT (ASIA)
Interested in having a custom-branded bucket imprinted with your brand's logo? Then get in touch with us at UCT (ASIA)!
We promise to offer you rich promotional product designs that are mouthwatering and mind-blowing.
Contact us today at UCT (ASIA)!